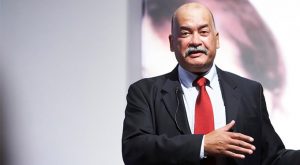 Veteran BBC reporter John Pienaar is leaving the BBC after 28 years to join Times Radio.
The 63-year-old deputy political editor has quit as the BBC and Government become embroiled in a battle over the broadcaster's future.
Pienaar made his announcement on Twitter.
He tweeted: "Personal news: After nearly three decades at the BBC I am leaving to join the soon-to-be-launched Times Radio as Drive Time presenter.
"It's been an enormous privilege and pleasure to report and present for the Beeb, and I'll miss having many of the best people on the planet as colleagues.
"Now, I'm beyond excited to be part of the newest digital venture under the oldest and greatest title in journalism.
"More details of that to come."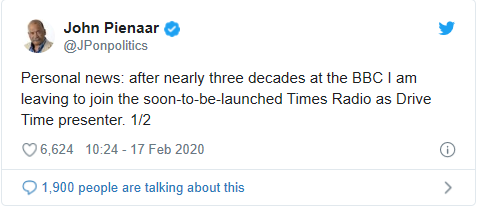 Downing Street is looking to scrap the BBC licence fee.
However, the BBC argues that would cut radio and television stations and reduce output.
Conservative MP Huw Merriman warned his party should not be "picking a potentially unpopular fight" with the BBC.
The BBC's accounts for 2018/19 said Pienaar earns between £160,000 and £164,999.
Rupert Murdoch's News UK arm is behind the Times Radio station.
It's aimed at threatening the BBC's Radio 4 channel.