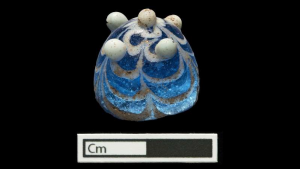 Picture: Live Science
A priceless 1200-year-old game piece carved from glass has been unearthed in a cemetery dig.
The blue and white frosted artefact looks like a "gumdrop".
With its five bobbles sitting on top, experts believe it is the king piece from an ancient game.
The find was made at a dig in Lindisfarne – once a home to monks.
It was sacked by the Vikings in 793 AD.
Archaeology lecturer David Petts, of Durham University, said:
"This is a truly wonderful discovery, which gives us a very special insight into life in the monastery at the time.
"It's similar to a number of other examples found at settlements and trading sites around the edge of the North Sea.
"It shows us not only that there were people on Lindisfarne who had leisure time, but that they were well connected."