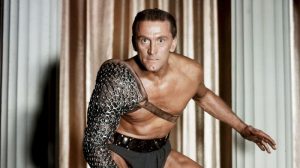 Kirk Douglas – the last surviving movie star from Hollywood's golden age – has died. He was 103.
His rugged good looks and compact muscular physique made him over-powering in the lexicon of great films.
He was Spartacus.
And he gave Oscar nominated performances as Vincent van Gogh in "Lust for Life" and as Colonel Dax in "Paths of Glory".
His son, the actor and producer Michael Douglas, announced the death on his Facebook page.
Kirk Douglas had made a long and difficult recovery from the effects of a severe stroke he suffered in 1996.
In his pomp during the 50s and 60s Douglas appeared in as many as three movies a year.
In his career he made more than 80 films.