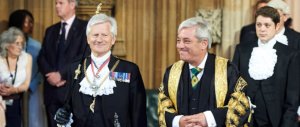 Giving former Speaker John Bercow a peerage would be "a scandal that Parliament would struggle to live down", claims a former Commons' official.
David Leakey served as Black Rod until 2018.
The position of Black Rod runs the day to day procedure in the House of Lords.
Lieutenant General Leakey told BBC Radio 4's Today that Bercow "would fly into a rage" and "the red mist would descend".
"He would be jumping up and down and bawling out, and shouting insults.
"He called me an anti-Semite once after being rather rude and insulting about my background, education and military career."
He added: "I think that if John Bercow was given a peerage it would be a scandal that parliament would struggle to live down."
Bercow, who has been nominated for a peerage by Jeremy Corbyn, has dismissed the claims as "total and utter rubbish from start to finish".