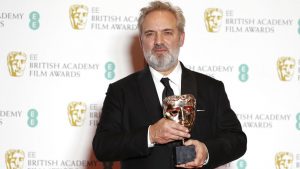 The war epic 1917 swept the British Academy film awards – taking seven of its nine nominated categories.
They included the coveted honour of best film – beating the hotly tipped Joker.
Sir Sam Mendes also won the best director award.
1917 was a personal journey by Sir Sam after listening to First World War stories told to him by his grandfather.
However, once again, an awards ceremony was dogged by accusations of colour bias.
Only white actors were nominated for this year's BAFTA.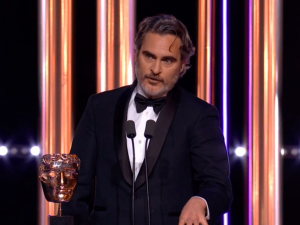 Joaquin Phoenix
Joaquin Phoenix, who won best actor for Joker, addressed the issue during his acceptance speech.
He said: "I feel very honoured and privileged to be here tonight – Bafta has always been very supportive of my career and I'm deeply appreciative.
"But I have to say that I also feel conflicted because so many of my fellow actors that are deserving don't have that same privilege.
"I think that we send a very clear message to people of colour that you're not welcome here, I think that's the message that we're sending to people that have contributed so much to our medium and our industry and in ways that we benefit from.
"I think that we really have to do the hard work to truly understand systemic racism.
"I think it is the obligation of the people that have created and perpetuated and benefited from a system of oppression to dismantle it, so that's on us."
The Duke Of Cambridge, the president of Bafta, said:
"Both here in the UK and in many other countries across the world we are lucky to have incredible film makers, actors, producers, directors and technicians – men and women from all backgrounds and ethnicities enriching our lives through film.
"Yet in 2020, and not for the first time in the last few years, we find ourselves talking again about the need to do more to ensure diversity in the sector and in the awards process – that simply cannot be right in this day and age."