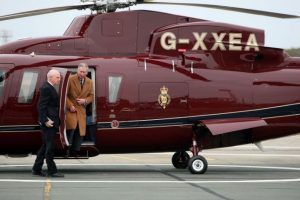 Library picture
The Prince of Wales flew more than 100 miles in a private helicopter to give a speech on lowering aircraft emissions.
Prince Charles, 71, flew from his home in Highgrove to Cambridge to speak to scientists.
They are leading research into the "decarbonisation" of air travel.
The round journey cost at least £12,000 and created 2.5 tonnes of carbon emissions.
Clarence House said in a statement:
"The Prince is not personally involved in decisions around his transportation arrangements, though he ensures all carbon emissions are offset every year.
"They are made based on what is possible within the constraints of time, distance and security.
"In order for him to undertake as many engagements as he does across the UK and around the world he sometimes has to fly.
"As he has often said, as soon as there is a more sustainable way of making these journeys, he'll be the first to use it."
Experts believe Prince Charles could have cut his emissions to just 0.2 tonnes if he had travelled by car.