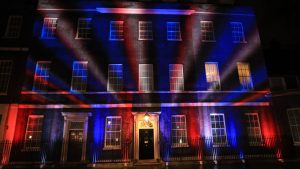 Britain is no longer a member of the EU.
After 47 years of being part of the union it has now officially left.
People up and down the country either held celebration or commiseration parties.
Large crowds gathered in Central London to mark the moment as a recording of Big Ben struck 11.00 pm.
The Prime Minister hosted a reception in Number 10 for senior ministers, officials and supporters of Vote Leave.
With a distinctively British feel to the party, they drank English sparkling wine and ate lamb.
A light show was beamed onto the exterior of the building.
Meanwhile, in Brussels the Union Flag was removed from those of members states.
It's thought one will be given to a museum.
https://www.youtube.com/watch?v=_GkWKsFN_SE
Prime Minister Boris Johnson declared the day was the "beginning of a new era".
It's more than three years since the UK voted to leave the EU.
It was a decision that bitterly divided the country – and, some say, continues to do so.
It took two Prime Ministers and two General Elections to pass the withdrawal bill through an often obdurate House of Commons.
It was Boris Johnson who broke the deadlock by winning a handsome election majority last December.
Britain and Brussels now embark on a series of talks about a future relationship.
Key among those are trade deals.
For the time being little will change but things must be in place for the end of 2020.
Addressing the nation Mr Johnson said:
"For many people this is an astonishing moment of hope, a moment they thought would never come.
"And there are many of course who feel a sense of anxiety and loss."
Mr Johnson added his job was now to "bring this country together".
Brussels has already said it is doubtful about the 2020 timetable to reach a deal.
It has warned that Britain will have to accept worse terms and conditions for trade.
European Commission president Ursula von der Leyen said: "We want to have the best possible relationship with the United Kingdom, but it will never be as good as membership."
Senior Cabinet minister Michael Gove agreed compromises will be made in any deal.
He said: "Some regulations that will differ in Britain that may mean that when it comes to trading with Europe there are some bureaucratic processes there that aren't there now."
Nigel Farage – the man who probably delivered an EU departure – told rapturous crowds at the rally in Parliament Square:
"We did it. We transformed the landscape of our country.
"There are some that say we shouldn't celebrate tonight, but we are going to celebrate tonight."
He added: "The people have beaten the establishment. The real winner tonight is democracy.
"And I am someone who believes we should be pro-Europe, but not the European Union."
German Chancellor Angela Merkel said Brexit was "a deep break for us all" and warned the "negotiations will certainly not be easy".
And, French President Emmanuel Macron said Brexit was an "alarm signal" for the EU.
He criticised the "lies, exaggerations, simplifications" that he believed led to the Leave vote.