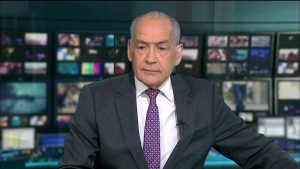 Veteran ITV newsreader Alastair Stewart has quit following allegations of posting a racist comment on Twitter.
The presenter is "stepping down after errors of judgement on social media", ITN said.
Stewart, 67, has since deleted his Twitter account.
He said: "It was a misjudgement which I regret, but it's been a privilege to bring the news to households throughout the UK for the past 40 years."
Michael Jermey, the director of news and current affairs at ITV, said:
"Alastair has been a long-standing, familiar figure to viewers of ITV News, both reporting and presenting with distinction.
"We wish him the very best for the future."
Stewart is known for being combative on his Twitter account, often engaging in exchanges with journalists and members of the public.
In one spat, he responded to a black Twitter user by quoting Shakespeare.
The line, from Measure for Measure, includes the phrase "like an angry ape".
The words refer to someone who takes a position of knowledge without knowing much about the subject.
Stewart first joined ITN in 1980.
He was the longest-serving male newsreader on British television.