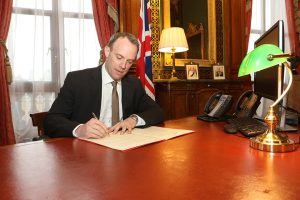 Foreign Secretary Dominic Raab has signed the United Kingdom's Instrument to ratify the EU Withdrawal Agreement.
The instrument will be deposited with the EU in Brussels today (Jan 29).
This step confirms that the UK has fulfilled its legal obligations regarding Britain's exit from the EU.
The Foreign Secretary Dominic Raab said:
"Signing the instrument of ratification of the Withdrawal Agreement is an historic moment that will legally bring an end to our membership of the European Union and delivers on the promise we made to the British people.
"It is the start of a new chapter for an independent, sovereign Britain, looking forward to a decade of renewal and opportunity.
"Whether we are reducing trade barriers between nations, tackling climate change, or improving lives around the world, our vision of a truly Global Britain will be a force for good."