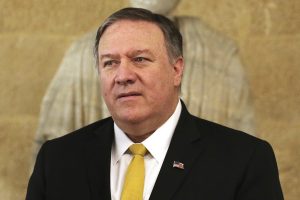 Mike Pompeo, US Secretary of State
America has made a last-ditch plea for Britain not to allow Huawei to work on its 5G network.
The US Secretary of State Mike Pompeo warns the UK could lose its sovereignty if it gives the Chinese tech firm the green light.
His plea comes only hours before a meeting of the National Security Council in Westminster.
Mr Pompeo called the decision "momentous".
Ministers and security chiefs are expected to announce the verdict on Tuesday.
Mr Pompeo re-tweeted a comment by MP Tom Tugendhat – a former chairman of the Foreign Affairs Committee.
Mr Tugendhat wrote:
"Sovereignty means control of data as much as land.
"We need to decide what we're willing to invest in and who were willing to share our tech with.
"The real costs will come later if we get this wrong and allow Huawei to run 5G."
Mr Pompeo added: "British MP Tom Tugendhat gets it right.
"The truth is that only nations able to protect their data will be sovereign."
Mr Pompeo is in London this week and expected to meet Boris Johnson and Foreign Secretary Dominic Raab.
Last week in a phone call with Donald Trump Mr Johnson discussed Huawei, according to the White House.
A Whitehouse statement said:
"The two leaders discussed important regional and bilateral issues, including working together to ensure the security of our telecommunications networks."
America fears allowing Huawei to work on Britain's 5G network will compromise security.
Washington alleges the Chinese tech titan uses its equipment to spy on people.
However, it has not produced any evidence to support the claim.
Huawei has always denied any wrong-doing.