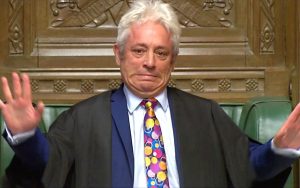 Former Commons Speaker John Bercow allegedly "bullied and humiliated" staff.
The accusation comes from Lord Lisvane, who was chief clerk of the House until 2014.
Lord Lisvane also details incidents where Mr Bercow used "inappropriate language".
He has filed a formal complaint to the parliamentary commissioner for standards.
Mr Bercow, who has always denied allegations of bullying, said in a statement:
"During the five years that we worked together Lord Lisvane had ample opportunity to raise any accusations of bullying with me.
"At no stage did he do so… the timing of this intervention is curious."
Mr Bercow was not nominated for a peerage when he retired last December; the first Speaker not to be honoured in 230 years of tradition.
The controversial Speaker was seen by Brexiters to try to thwart the Leave process as it went through the Commons.
However, outgoing Labour leader Jeremy Corbyn has put forward Mr Bercow's name for a seat in the Lords.
The former Speaker has previously been accused of bullying by David Leakey, who served as Black Rod until 2017.
He alleged that Mr Bercow left staff "fearful" and acting in a way that was "by any definition bullying – it is intimidating, unreasonable, disproportionate".
The ex-Speaker has vigorously denied those claims too, adding "they are without substance".