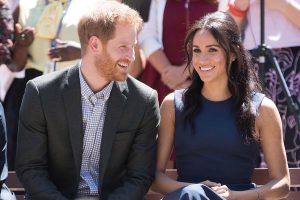 The Duke and Duchess of Sussex have lost their HRH titles, nor will they represent the Queen – Buckingham Palace has announced.
The Royal Family has cut all official links with the couple looking to seek a new life in Canada.
Harry and Meghan will also pay back the £2.4 millions of taxpayers' money spent on refurbishing their Windsor home, Frogmore Cottage.
They will pay a "going rate" rent on the property which they plan to use as their UK home.
Severing links to the Royal Family has taken five days of negotiations.
Because the Duke and Duchess of Sussex can no longer carry out royal duties, they will not receive any public money.
And Harry has been forced to give up his HRH association with official military appointments.
The couple will now earn their income from commercial enterprises around the world.
However, royal watchers and sources believe the Sussex Royal branding may also be curtailed.
One said: "It's something to be ironed out".
Buckingham Palace released a statement on Saturday.
It said – with the Queen's blessing – the Sussexes would carry on with their private patronage and associations.
It added: "While they can no longer formally represent The Queen, the Sussexes have made clear that everything they do will continue to uphold the values of Her Majesty."
The Queen said: "Following many months of conversations and more recent discussions, I am pleased that together we have found a constructive and supportive way forward for my grandson and his family," she said.
"Harry, Meghan and Archie will always be much loved members of my family.
"I recognise the challenges they have experienced as a result of intense scrutiny over the last two years and support their wish for a more independent life."
The Queen's statement: