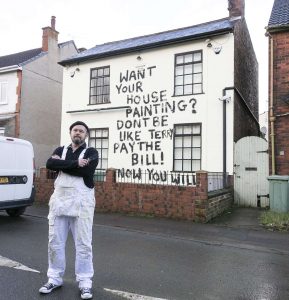 Picture Yahoo
Disgruntled decorator Dean Reeves has daubed a message on a wall demanding he be paid for his work.
Dean claims a builder owes him £500 for a job.
After being told he won't get the money until he'd done more work, Dean took a two-inch brush and a tin of black gloss to wreak revenge.
He wrote: "Want your house painting? Don't be like Terry, pay the bill!
"Now you will!"
Dean, 50, claims he'd work non-stop for seven days to paint the former pub in Bolsover, Derbyshire.
The property is being converted into flats by bulder Terry Turner.
He says they'd agreed a price of £1150 – of which £650 was handed over.
However, Dean says Mr Turner told him he wouldn't be receiving the remainder until he "gave the back of the house another coat".
Dean did re-paint the wall, but he claims Mr Turner then wanted the fascias painting too.
Dean said: "I did seven days hard work on it. I didn't have lunch breaks, I worked hard all week to get it done.
"He kept saying, 'I'll pay you tomorrow', but tomorrow never came.
"I did the work and he said if I go back to give the back of the building another coat, he would pay me.
"I went back on Tuesday and did that, but when I sent him a picture, he just said 'that looks better' with a smiling face.
"I asked him where my money was and he said I wasn't going to get a penny until I did the fascias, which we'd never agreed on."
Dean says he took the drastic action two days after being told he was not going to get the £500 he was owed.
He said: "It just got too much and I wanted to prove the point.
"I don't regret it and I'd do it again if I had to.
"I was never going to get paid, but I wanted to make sure he had to pay something to get it cleared off."
Mr Turner has denied withholding the £500 and said he was going to pay in full once the work had been completed.