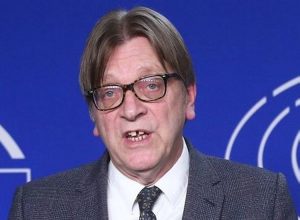 Guy Verhofstadt
A senior EU leader predicts Britain will one day re-join the European Union.
Guy Verhofstadt, chairman of the Brexit Steering Group, believes the decision to leave will be reversed.
His comments come after British MEP Seb Dance said the UK was only taking a "sabbatical" from the union.
Mr Verhofstadt told BBC Radio 4's Today programme:
"I think that will happen, yes, (but) it's difficult to say when.
"There will be a generation, the young generation coming in the coming decades, who will say later, 'We want to go back'.
"It will happen.
"Maybe you will not see it in my life, but it will happen."
Britain is set to leave the EU on January 31st.
Once the UK has gone, both sides start negotiating how to deal with each other politically and economically.
That transition period ends in December 2020.
Click to expand