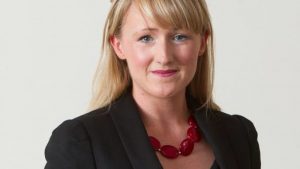 Labour leader hopeful Rebecca Long-Bailey has rapidly overtaken the favourite for the top job.
A new poll shows Ms Long-Bailey – a politically inclined natural successor to Jeremy Corbyn – has pushed Sir Keir Starmer into second place.
The Survation survey of Labour members suggests Ms Long-Bailey would take 42% of first preference votes.
Sir Keir would garner 37%.
The final ballot is counted on a preferential system.
Members vote on a list of five candidates.
The final ballot is carried out using a preferential system, with members able to order the candidates one to five.
If none wins 50% in the first round the person lying fifth is eliminated and their second preference votes are re-distributed.
This knock-out carries on until one candidate has a majority.
If the final count was a straight fight between Ms Long-Bailey and Sir Keir the poll suggests she would end up winner – 51 to 49.
Labour MPs and MEPs have supported Sir Keir in the nomination round – he picked up 88 votes and Ms Long-Bailey 33.
But the real contest is decided by Labour Party members.
Under Mr Corbyn's radical left-wing leadership its membership touched 500,000.