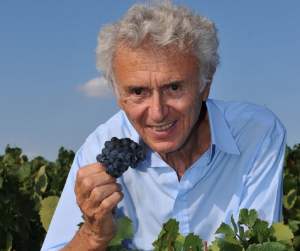 Wine-maker Georges Duboeuf – known as "The King of Beaujolais" – has died.
He was aged 86.
He single-handedly created a wine market phenomenon by his relentless promotion of a little-known red wine – Beaujolais Nouveau.
He added its release date to a world calendar of events.
Mr Duboeuf died of a stroke at his home in Romanèche-Thorins in the Burgundy region.
He started wine making in 1950s and helped set up an association of local producers.
He opened his own winery in 1964 and was renowned for his meticulous attention to detail and hygiene.
However, it was his endless promotion of Beaujolais Nouveau that earned him his world-wide reputation.
There were races to have the first bottle delivered and drunk within hours of being released from the vineyard.
One was even delivered to the UK by a Harrier jump-jet.
The Duboeuf estate also produced many excellent Beaujolais wines.
When he passed the company to his son Franck in 2018 it was producing internationally more than 30 million bottles a year.
Dominique Piron, president of the Inter Beaujolais company, said:
"Georges was responsible for raising the Beaujolais flag all over the world.
"He had a nose, an intuition, [he was] a step ahead of everyone."