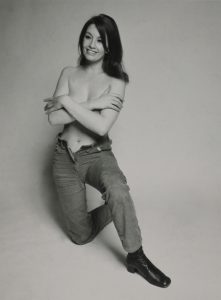 Two never publicly seen pictures of Christine Keeler have been sold for £7,000 at auction.
They were taken by an unknown photographer in 1966 – three years after the Profumo scandal.
The story that brought down the Ted Heath Conservative government in 1964 is currently on BB1.
The risqué photos show Keeler topless – one looking at the camera and the other with her back turned.
The images were put up for sale by art dealer James Birch.
He was friends with Keller in the 1990s.
Mark Wilkinson, at auctioneers Sworders, said:
"The vendor was friends with Keeler, and we believe she gave him the photos.
"He held an exhibition of her photos in 2010 but we don't believe the topless images featured so they have remained unseen.
"They are great, very striking photos and she was one of the most famous figures of the era."
Keeler died aged 75 in 2017.