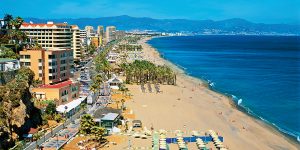 Costa Del Sol
Three members of the same British family have died in a swimming pool on the Costa Del Sol.
It's believed a nine-year-old got into difficulties at the Club La Costa World.
Her elder brother and father jumped in to try to save her.
The mother raised the alarm as her family struggled in the water.
She is now helping the police investigation.
The boy is said to be aged 16 and the father aged 53.
It's not known why all three drowned, but police divers have been inspecting the pool's pump.
They believe it might have played a part in the incident.
A Foreign Office spokesperson said:
"We are offering assistance to a British woman following an incident in Spain."