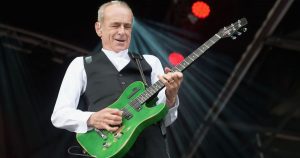 Status Quo star Francis Rossi has sold his beloved green guitar for £120,000.
He bought the Fender Telecaster for £75 in 1968 and used it until he retired four years ago.
The much-battered guitar helped Rossi and Quo to more than 60 UK chart hits and worldwide record sales of 118 million.
Rossi said: "The green Tele served me extremely well for almost 50 years.
"I'm always amazed when I look back and realised what a chequered history we had together."
Jon Baddeley, managing director of Bonhams, Knightsbridge, said:
"It has been a great pleasure to have this iconic guitar in the spotlight at today's auction.
"The Bonhams saleroom is a very different stage to arenas or stadiums and we are delighted this legendary piece of British rock memorabilia hit such a high note today."