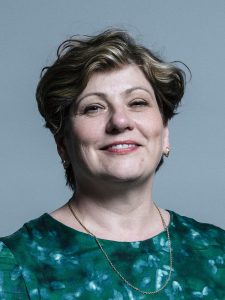 Labour's Emily Thornberry, a contender to replace leader Jeremy Corbyn, is to sue for libel.
She's taking action against ousted MP Caroline Flint.
Ms Flint claimed the MP for Islington and Finsbury told a colleague:
"I'm glad my constituents aren't as stupid as yours".
Ms Thornberry was quick to deny the charge as a "total and utter lie".
She added: "I've never said that to anyone, nor anything like it, nor would I ever think it.
"Whatever our differences, let's not sink into that gutter."
The war of words started after Ms Flint lost the "safe" Labour seat of Don Valley in South Yorkshire.
She said: "Keir Starmer led us to a policy that did not listen to Labour Leave voices who urged caution, he led us down the path of a second referendum.
"And, and I'm afraid Emily Thornberry did as well – she said to one of my colleagues, 'I'm glad my constituents aren't as stupid as yours'."