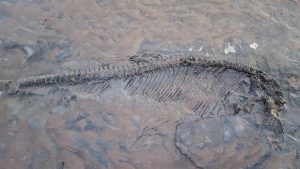 Credit Jon Gopsill
Two dogs – Poppy and Sam – have uncovered a 65-million-year skeleton on a storm lashed beach.
The dogs were out with owner Jon Gopsill, 54, when they became excited about a bone in the sand on the Somerset coast.
Jon said: "I have always been an amateur fossil hunter and I have found a good supply of ammonites, so I always keep my eyes open.
"We were at the beach when I saw this thing and thought 'what's that?'
"I went a bit closer and thought 'wow'.
"I thought it was obviously a fossilised sea creature, possibly an ichthyosaur.
"It has been there for at least 65 million years.
"I was just blown away to see it there.
"It really is incredible that is has survived for such a long time and is now just there for everyone to see.
"I realised straight away that it was amazing, museum quality stuff.
"As soon as I saw it, I knew I'd found something special."
The dogs found the Jurassic period dolphin-like skeleton when the tide was out after rough seas.
The Natural History Museum and Somerset Heritage have taken over the find.