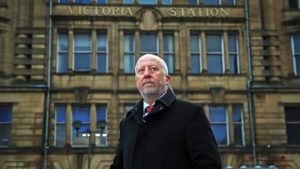 The BBC "consciously" helped Boris Johnson win the general election, claims a Labour shadow minister.
John McDonald said the broadcaster could no longer claim to be "impartial".
He added he was "worried about the role of the public service broadcaster" in the Conservatives winning a thumping majority.
Mr McDonald told the BBC's Radio 4 Today programme:
"We've accepted that the print media are reined against us, but my goodness me…if the BBC are going to hold themselves out as having conducted themselves in an impartial manner, they've really got to look in the mirror."
Asked if he believed it was a "conscious" attempt to help Mr Johnson, Mr McDonald replied:
"I think you played your part. Consciously, yes."
The transport shadow secretary cited a BBC interview as an example of bias.
He quoted a BBC election night report which said the majority was one Mr Johnson "so deserved to win".
Mr Webb said the sentence was a "slip of the tongue".
"That's absolute madness," he added.
Mr McDonald replied: "How many slips of the tongue are we going to make?"
The row comes as Prime Minister Boris Johnson has already fired a warning shot across the bows of the BBC.
It's said he's planning a review of the corporation's licence fee.
And, proposed decriminalisation of non-payment of the fee is the first step to doing away with it all together.
Meanwhile, Number 10 continues its boycott of ministers appearing in BBC programmes.