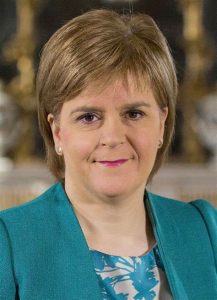 Within hours of emphatically winning the keys to Number 10, Boris Johnson clashed with Nicola Sturgeon over a second independence referendum.
The Prime Minister and Scotland's first minister exchanged words over the telephone.
A Downing Street spokesperson said:
"The prime minister spoke to first minister of Scotland Nicola Sturgeon earlier this evening, where he reiterated his unwavering commitment to strengthening the union.
"On Brexit, the prime minister said that he is now in a position to get this done in a way that allows the whole of the UK to move forward together, providing certainty for Scottish businesses and improving the lives of people right across Scotland.
"The prime minister made clear how he remained opposed to a second independence referendum, standing with the majority of people in Scotland who do not want to return to division and uncertainty.
He added how the result of the 2014 referendum was decisive and should be respected."
Ms Sturgeon tweeted: "And I made clear that the SNP mandate to give people a choice must be respected – just as he expects his mandate to be respected."
Following the election result, Ms Sturgeon said the Scottish Government would "publish the detailed democratic case for a transfer of power to enable a referendum to be put beyond legal challenge".
The Tories lost seven Scottish seats to Nicola Sturgeon – creating the fever for another vote on independence.