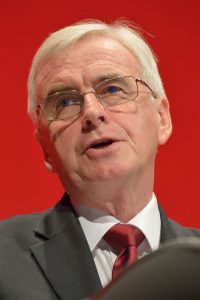 Labour's shadow chancellor John McDonnell has quit the party's frontbench.
Mr McDonnell said: "I've done my bit."
And, he intimated a major re-shuffle of the party was on the cards
He said: "Jeremy was the right leader, but it is time for the party to move on under new leadership.
"We will all go now. The new leader will come in place and appoint a shadow cabinet. I won't be part of the shadow cabinet.
"I've done my bit. We need to move on at that stage with that new leader."
A McDonnell confidante said: "John will stay in place until a new leader and new frontbench team is in place."
McDonnell's decision to go pre-empts Jeremy Corbyn's to "hang-on" despite calls to go now.
Labour returned its lowest number of seats since 1935.
Some had been loyally "red" for more than 100 years.
Mr McDonnell kept the Hayes and Harlington seat he has held since 1997.
He said Mr Corbyn had been "demonised by a media smear campaign".
Asked if the Labour leader was the reason for the party's defeat, he added:
"I think there is an issue to be discussed about how the use of the social media – but also the overall media – has turned someone who I think is one of the most principled, honest, sincere, committed anti-racist politicians demonised by a smear campaign against him."