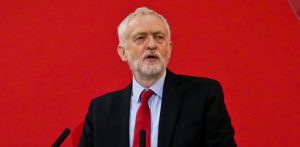 Defeated Labour leader Jeremy Corbyn has refused to take responsibility for his party's dismal election failure.
He said a hostile media and Brexit were the reasons Labour crashed to its worst defeat in decades.
The Islington North MP has said he'll stand down as leader – but not yet.
He said he had "done everything he could" to lead the party, pointing out membership had more than doubled during his leadership.
Mr Corbyn said: "This election was ultimately taken over by Brexit and we as a party represent people who voted both Remain and Leave.
"My whole strategy was to reach out beyond the Brexit divide to try and bring people together, because ultimately the country has to come together.
"Those is Leave areas in some numbers voted for Brexit or Conservative candidates which meant that we lost a number of seats and we didn't make the gains we hoped we could've done, particularly in the Midlands and the North."
"I've received more personal abuse than any other leader has ever received by a great deal of the media."
Mr Corbyn added: "I was elected to lead the party and I think the responsible thing to do is not to walk away from the whole thing and I won't do that.
"I will stay here until somebody is elected to succeed me and then I will step down at that point."