A thumping election majority for the Conservatives has "ended the gridlock" in British politics, says Prime Minister Boris Johnson.
With only one seat left to declare, the Tories have won 364 seats.
The party has an 80 seats' majority in the Commons – its best result since Maggie Thatcher's landslide victory in 1987.
The government can now push ahead with Brexit and have Britain out of the EU by Jan 31.
It's thought a vote on the current deal could be done before Christmas.
Mr Johnson is expected to reshuffle his Cabinet this weekend.
Meanwhile, Labour suffered its worst defeat since 1935, winning just 203 seats –three fewer than the disastrous 1983 campaign led by Michael Foot.
Jeremy Corbyn is now the least popular and successful leader in Labour's modern history.
The Liberal Democrats also lost seats.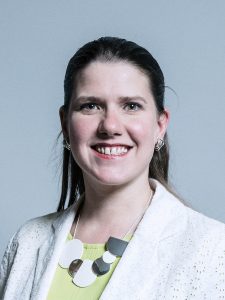 Jo Swinson
The party's leader Jo Swinson was defeated and resigned almost immediately.
She lost her constituency to the SNP by 149 votes.
A triumphant Boris Johnson told jubilant supporters he'd deliver a "people's government" and vowed to unite the country.
He told Labour voters who'd switched their party allegiance:
"I am humbled you have put your trust in me and in us and I, and we, will never take your support for granted.
"It does look as though this one nation Conservative government has been given a powerful new mandate to get Brexit done, to unite this country and take it forward."
"That work will begin today.
"And, all I can say to you everybody is that we must understand now what an earthquake we have created.
"The way in which we have changed the political map of this country.
"We have to grapple with the consequences of that, we have to change our own party to rise to the level of events, we must answer the challenge that the British people have given us."
Labour under Jeremy Corbyn lost seats it had held for more than a hundred years.
The Tories smashed through the so-called "red wall" in the Midlands and North.
The party won over millions of blue-collar workers.
Veteran MP and ex-miner Dennis Skinner – The Beast of Bolsover – lost his seat after 49 years as an MP.
Bolsover in Derbyshire is pit territory and has always been loyal to Labour – until this election.
Mr Corbyn – describing the results as "a disappointing night" – said he will not lead Labour into another election.
But he refused to stand down straight away, wanting to lead the party into a "process of reflection".
However, he's under pressure to quit now as some senior Labour politicians accused him of "single-handedly" losing the election.
They said he peddled "student politics".
Labour's Margaret Hodge, who held her London seat, tweeted:
"Corbyn talking about a period of reflection. I've reflected. You failed. Please stand down."