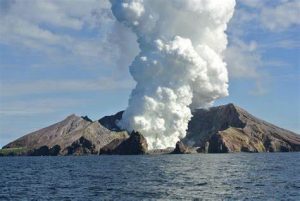 Two British women are in hospital after a volcano erupted in New Zealand.
Six people are known to have died in the eruption, and another seven are still missing.
Many of the victims suffered severe burns.
The NZ police have started a criminal investigation.
They want to know why tour groups were still allowed near the volcano, despite seismologists warning of increased activity.
As scores of people explored the volcano on White Island in the Bay of Plenty, it sent plumes ash and scalding water into the air.
New Zealand Police Deputy Commissioner John Tims said:
"I can confirm now that we will commence a criminal investigation into the circumstances of the death and injuries on White Island."
On the ground rescue work is too dangerous because of the volatile volcano.
However, planes have failed to reveal signs of life.
Prime Minister Jacinda Ardern said:
"The scale of this tragedy is devastating.
"We know, too, there will be bigger questions in relation to this event.
These questions must be asked, and they must be answered.
"But our focus now is on discharging our duty of care to support those affected and that is also the focus of the police."
Laura Clarke, the UK High Commissioner to New Zealand, said two of the 31 people still in hospital were from Britain.
It is unknown if more British tourists were involved.