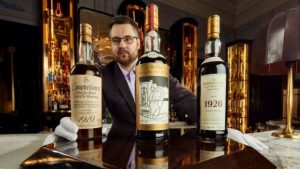 © Whisky Auctioneer
The world's largest private collection of whisky is to be auctioned.
More than 3,900 bottles of mainly single malt Scotch will be sold online.
The "perfect collection" includes rare bottles from The Macallan, Bowmore, and Springbank distilleries.
The lot is expected to fetch up to £8 million.
Whisky Auctioneer in Perth described it as "the most extensive private collection we have seen in terms of the completeness of representation of 20th Century Scottish distilleries".
The collection comes from an American businessman who died in 2014.
Richard Gooding, a bottling tycoon, spent more than 20 years amassing the whiskies.
His wife Nancy said: "It was clear to us as a family that collecting Scotch was one of Richard's greatest passions – an endeavour that spanned over two decades.
"He loved every aspect of it; from researching the many single malt distilleries to visiting them and tasting their whiskies.
"He was always so pleased to acquire the bottles that he was searching for over the years.
"His mission was to collect a bottle that represented every single distillery, but his favourite was always Bowmore, with his preferred whisky being Black Bowmore."