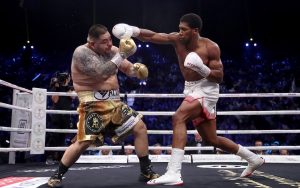 World heavyweight champion Anthony Joshua is set for a hero's welcome – and his next fight at Tottenham Hotspur's new stadium.
Joshua reclaimed his WBA, WBO and IBF titles with an emphatic unanimous points' decision over Andy Ruiz Junior.
The 20-stone plus Mexican American Ruiz shocked the boxing world last June, inflicting Joshua's first career defeat.
But in Saudi Arabia a trimmed down, and more focussed Joshua, took Ruiz the distance – and delivered a boxing masterclass in the process.
Afterwards Watford born Joshua said "London's calling" – a cry echoed by his manager Eddie Hearn,
Hearn said the new Spurs ground, with its 62,000 plus capacity, is "an attractive prospect" for Joshua's next match.
Hearn said: "The phone has gone crazy. It's like, 'bring him here, bring him here'.
"They've seen what we've done here and there's a lot of options internationally, but he does want to box back in the UK.
"We spoke to Spurs about hosting this fight (the rematch against Ruiz), which they were keen to do, but unfortunately the dates didn't work out.
"They would be keen to do it and it would be a nice stadium to do it in London."
Joshua picked up more than £53 million for his fight in Saudi.
He told Sky Sports News: "I'm ready.
"I've got my belts back and I'm ready to fight.
"But I'm not looking too far into the future because it takes your eyes off what is in front of you."