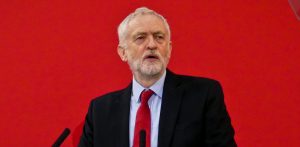 Leaked classified documents detailing NHS trade talks between the UK and America originated in Russia, claims web news site Reddit.
The unredacted documents were cited by Jeremy Corbyn as tacit proof officials are looking to "sell off the NHS".
Despite strenuous denials by Boris Johnson that was "total nonsense", the Labour leader has continued his line of attack.
There are fears the Russians are trying to influence the outcome of the general election.
Conservative Party chairman James Cleverley said:
"Corbyn has some serious questions to answer.
"Is he a foolish pawn in a Russian disinformation campaign, or did he know where the leaked documents came from?"
The documents first appeared in a post on Reddit in October.
The site now believes it is part of a campaign that started in Russia.
It also uncovered accounts which had used "vote manipulation" to spread and promote the original post.
Reddit said the accounts "have the same shared pattern" as a Russian campaign found on Facebook.
The campaign is called "Secondary Infektion".
Reddit has now banned 62 accounts "under our policies against vote manipulation and misuse of the platform".
Earlier this week tech experts also suggested the Reddit leak was linked to "Secondary Infektion".
Ben Nimmo, head of investigations at media analytics outfit Graphika, said:
"It's on the same set of websites, it's using the same types of accounts and making the same language errors.
"It's either the Russian operation or someone trying hard to look like it."
A government spokesperson said:
"Online platforms should take responsibility for content posted on them, and we welcome the action Reddit have taken today.
"The UK government was already looking into the matter, with support from the National Cyber Security Centre (NCSC).
"We do not comment on leaks, and it would be inappropriate to comment further."
Labour refuses to say where it obtained the documents, but maintains they reveal a damaging picture of Boris Johnson's intentions.
A spokesman said: "These documents reveal the plot against our NHS.
"And of course, neither the UK nor the US government have denied their authenticity. Our releasing them to journalists was clearly in the public interest."