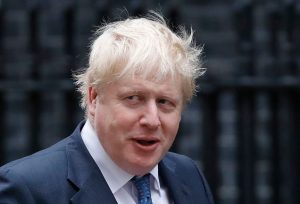 Boris Johnson will not compromise security when it comes to a decision to allow Chinese tech titan Huawei work on the UK's 5G network.
He said it was vital not to endanger Britain's ability to share information with our key allies.
His comments came after US President Donald Trump expressed his concerns about Huawei at the 70th anniversary NATO meeting.
He described the company as a "danger" and "security risk".
America believes Huawei uses its infrastructure and equipment to spy – though no evidence has ever supported the claims.
Huawei strongly denies the accusations.
A spokesman said: "We're confident the UK government will continue to take an objective, evidence-based approach to cyber security.
"Our customers trust us because we supply the kind of secure, resilient systems called for by the NATO Declaration and will continue working with them to build innovative new networks."
Under Theresa May's government there was tacit agreement that Huawei would be able to work on Britain's 5G network.
But constant pressure from America has left Mr Johnson – eager for new trade deals post-Brexit – feeling lukewarm about working with Huawei.
A final decision will be made after the general election – if he keeps the keys to Number 10.
Trump pleaded with the UK and other NATO allies to shun Huawei.
He said: "I do think it is a security risk, a security danger.
"I spoke to Italy; they look like they are not going to go forward with that.
"We spoke to other countries and they are not going to go forward.
"Everybody I have spoken to is not going forward, but how many countries can I speak to?
"Am I going to call up and speak to the whole world?"
Mr Johnson said: "I don't want this country to be unnecessarily hostile to investment from overseas.
"On the other hand, we cannot prejudice our vital national security interests.
"Nor can we prejudice our ability to co-operate with other five eyes security partners."
The UK is part of the Five Eyes intelligence network with America, Canada, Australia and New Zealand.
A summit declaration from NATO read:
"NATO and Allies, within their respective authority, are committed to ensuring the security of our communications, including 5G, recognising the need to rely on secure and resilient systems.
"We have declared space an operational domain for NATO, recognising its importance in keeping us safe and tackling security challenges, while upholding international law."