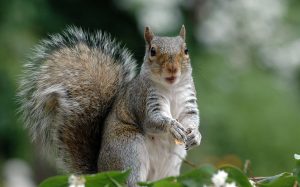 People should eat grey squirrels to curb numbers – and help save trees.
The dinner delight was suggested by Forestry Commission chairman Sir Harry Studholme.
He said it's essential to grow more trees to combat climate change.
But trees are being killed by the grey squirrel.
Sir Henry said if control measures fail, we should consider the rodent as a meal.
Squirrels strip back a tree's bark, allowing fungal infections to attack.
Sometimes a tree is "ring barked" – where the squirrel cuts out the protective covering in a circle around the branch.
The tree dies from that point upwards.
Sir Harry said: "Grey squirrels are very damaging to trees, particularly when they ring-bark oak, beech and sycamore…which can easily kill it.
"They make the growing of broadleaf timber in the UK virtually impossible"
The Forestry Commission has reintroduced the pine marten, in the Forest of Dean, hoping it will kill squirrels.
Sir Harry said if that doesn't work we should eat "grey squirrels in London restaurants".
There are 2.5million greys squirrels in the UK.
They were introduced in the 1870s from North America.
Sir Harry also suggested adding muntjac deer – which damage trees – to the menu.