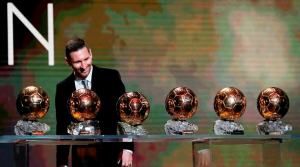 Lionel Messi has won the Ballon D'Or title, moving one ahead of his rival Cristiano Ronaldo.
It's the sixth time the Barcelona striker has won the coveted honour.
Liverpool's centre-back Virgil Van Dijk came second.
He said: "I was close, but there was just someone a little bit better."
The women's award was won by US captain Megan Rapinoe.
Messi hit 54 goals for his club and country (Argentina) last year.
The event was held in Paris.