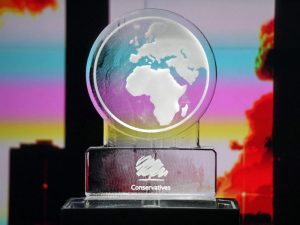 The Conservatives have reported Channel 4 to Ofcom after it used a melting ice sculpture in place of Boris Johnson.
The broadcaster displayed the studio prop after Mr Johnson failed to appear for a leaders' debate on climate issues.
A similar melting model was used for Brexit leader Nigel Farage.
Leaders from Labour, the Lib Dems, Green, Plaid Cymru and the SNP did take part.
The Tories have complained to Ofcom, the broadcast regulator, that C4 was in breach of its code.
Tory Michael Gove did arrive at the studios, and insisted he should take up the Prime Minister's podium.
Editor Ben de Pear said the other party leaders were asked if they would like to debate with Mr Gove and they all declined.
The letter to Ofcom, sent before the show was broadcast, said:
"It has even been reported that Channel 4 has commissioned an ice sculpture of the Prime Minister to represent the Conservative Party.
"Were this the case, this would represent a significant breach of the code through such a provocative partisan stunt, which would itself constitute making a political opinion in its own right."