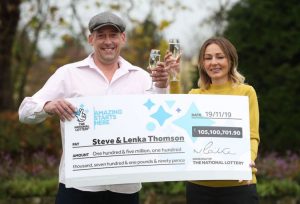 Builder Steve Thomson and his wife Lenka have won the £105 million EuroMillions jackpot.
It's the ninth biggest win in the game's history.
The couple, who've been together for 17 years, picked the winning numbers with a Lucky Dip ticket.
They now plan to treat themselves to a new home – and new ones for their family too.
The couple from Selsey in West Sussex have three children.
Mr Thomson discovered he was a multi-millionaire after checking his numbers three days after the draw.
He said he was a "gibbering wreck" and paced around trying to process the news in "five minutes of madness".