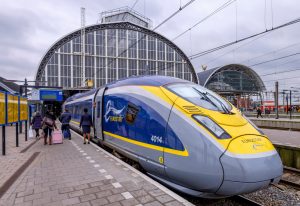 Eurostar will mark its 25th anniversary by planting a tree for every train it runs.
An estimated 50 trees a day will set in woodlands in the UK, France, Belgium and the Netherlands.
The train operator will also run the first "plastic-free" service.
The company says single-use plastics have been ditched as "a demonstration of environmental ambitions for its onboard experience".
The London to Paris train will feature wooden cutlery, recyclable cans, glass wine bottles, paper-based coffee cups and environmentally friendly food packaging.
Mike Cooper, Eurostar's chief executive, said:
"We have always had a strong sense of responsibility for the environment but as the demand for sustainable travel becomes increasingly critical, we believe we can raise the bar.
"With our environmental ambitions and our tree planting programme we are providing an attractive, eco-friendly alternative to the airlines."
Eurostar was launched in 1994.