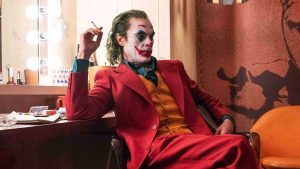 "Joker" has become the highest-grossing R-rated film of all time.
The gritty movie has made more than £615 million at the worldwide box office.
The takings beat "Deadpool" which made £613 million on release in 2016.
The "Joker", starring Joaquin Phoenix as Batman's nemesis, shocked audiences with its violence and dark subject.
It reveals how mentally troubled comedian Arthur Fleck turns to street revolution and bloody crime.
Paul Degarabedian, media analyst at Comscore, said:
"Joker has been a really surprising success.
"The film found a record-breaking global audience despite security concerns, controversies and a bleak subject matter."
The film, made by Warner Bros, is strongly tipped to pick up Oscar awards.
Many critics agree that Phoenix gives a breath-taking performance as the trouble Arthur/Joker.
An R-Rating is for audiences of 17 years plus.