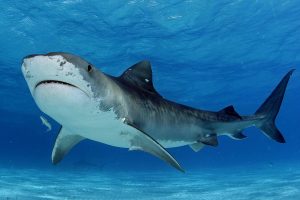 A British tourist who went missing while swimming was eaten by a shark.
The man's hand was found inside the 10-foot-long Tiger shark after it was caught.
The 44-year-old man was swimming off the coast of Reunion, a French island near Madagascar.
A local investigator said:
"He and his wife were spending a week on the island and he had gone out swimming in the Hermitage Lagoon, off Saint-Gilles, alone on Saturday.
"When he did not get back, his wife sounded the alarm, and a full search was launched, involving boats and a helicopter.
"Divers searched around a coral reef in the area, and there were also patrols on land involving sniffer dogs.
"Sadly, the man could not be found."
A few days later a Tiger shark was spotted near the tourist beaches and was killed.
A post-mortem examination revealed a hand wearing a wedding ring.
DNA tests will be carried out on the hand, but the swimmer's wife has confirmed the ring was her husband's.
Reunion has been plagued by shark attacks on swimmers and surfers – there have been 24 since 2011, 11 of them fatal.
Many beaches are closed but the ban is often ignored.
During a visit last month, French president Emmanuel Macron said everything possible was being done to deal with the shark crisis.
"I know all about the trauma and tragedy that has taken place.
"Things are getting better and the goal is to reopen the [closed] surfing and swimming areas here in 2022."