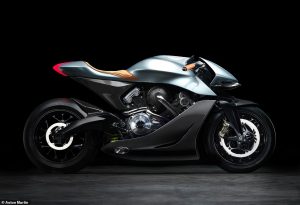 Aston Martin has teamed up with bike maker Brough to create the ultimate motorcycle – a bike for heroes.
For both companies have connections to derring-do legends.
Aston Martin is forever associated with 007 James Bond.
And the Brough was the bike of choice for WWI hero Lawrence of Arabia.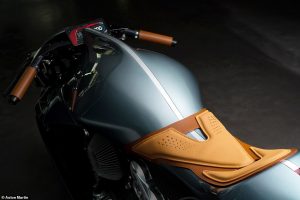 Only 100 of the hand built AMB 001 will be made by Brough at its factory in Toulouse, France.
The bike, with a top speed touching 190 mph, can only race on the track.
It will cost more than £100,000 and is available next year.
Aston Martin executive vice President and chief creative officer Marek Reichman said:
"Strictly limited to just 100 examples, the track-only AMB 001 represents the union of iconic Aston Martin design and state-of-the-art Brough Superior engineering to create a piece of automotive art for the motorbike connoisseur.
"This is what we believe a cutting-edge motorcycle should be and we are very proud to see the Aston Martin wings on a motorcycle for the first time."