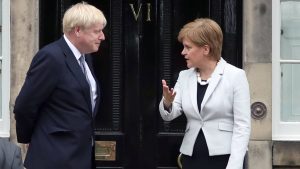 Scotland will not have a second stab at an independence referendum, says Boris Johnson.
He ruled out giving the SNP another chance while he was Prime Minister.
He said nationalists agreed in 2014 that the vote then was "once-in-a-lifetime" event.
Mr Johnson said: "I don't think people in this country think referendums are very wonderful for harmony.
"We had one in 2014, the British people, the people of Scotland, were told in 2014 that that was a once-in-a-generation event.
"I don't want to have one.
"I don't see any reason to go back on that, on that assurance."