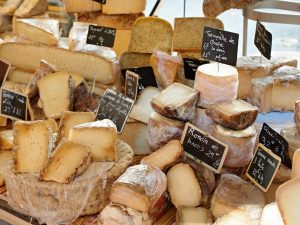 Quelle Fromage…the French have failed to win any top prizes at the World Cheese Awards.
The best they could manage was an eight place.
Instead, top honours went to a British Cheddar and an American blue cheese.
The French newspaper Ouest-France slammed the decision as "sacrilege".
But the results didn't surprise the event's organisers.
John Farrand, managing director of the Guild of Fine Food, said:
"Good cheese is made around the world, not just by the French.
"We try to celebrate all cheeses, especially those made by smaller artisan cheesemakers.
"I know lots of French people who work in cheese who know that fine cheeses are made in many different countries."
More than 3,800 cheeses from 42 countries were judged.
Judges picked The Rogue River Blue from Oregon as the best.
The Pitchfork Cheddar from Trethowan's Dairy in Somerset came fourth