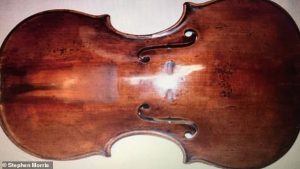 An internationally renowned violinist has left his £250,000 instrument on a train.
Stephen Morris has now launched a nationwide search to recover the 310-year-old violin.
He left it on the London to Orpington train.
While the hunt continues Stephen, from Sydenham in Kent, has had to borrow his wife's violin.
He said: "According to my colleagues, playing this other violin hasn't affected my performance but it is was like having my arm cut off.
"The way my instrument responds is like having a limb – your hand and brain know exactly where to go when playing."
Stephen was on the 22.58 London Victoria to Orpington service on Tuesday when he last saw the violin.
British Transport Police are scouring CCTV footage to see if anyone left the train with the violin.
The violin was made by master craftsman David Tecchler in 1709.
Stephen has played on film scores for Lord of the Rings, and James Bond.
He's also recorded with David Bowie and Stevie Wonder.