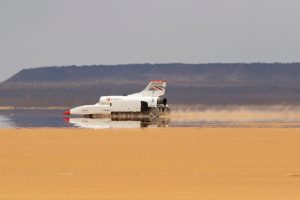 The Bloodhound supersonic car has made its first track run as it tackles the world land speed record.
Pilot Andy Green eased the jet-powered vehicle to a modest 100 mph across the Hakskeen dry lake in South Africa.
Over the next few week Bloodhound will steadily pick up speed as engineers monitor its progress.
Primarily, they'll be looking at the drag factor and how to bring the Bloodhound to a stop after the run.
The assault on the speed record is planned for 2020.
The vehicle is powered by a Eurofighter jet engine.
It's hoped that by adding a rocket motor it will hit a top speed of 800 mph.
The current world record stands at 763 mph.
It was set by Andy Green more than 20 years ago in the Thrust SSC.
The Hakskeen Pan was cleared of stones by local people to give the track a super-flat bed.