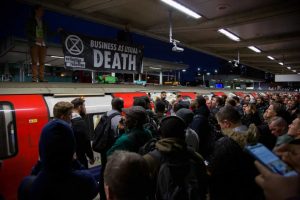 Police are searching for commuters who carried out a "vigilante" attack on Extinction Rebellion protesters.
Frustrated rush-hour passengers grabbed the two demonstrators off the roof of a Tube at Canning Town.
James Mee, 35, and Mark Ovland,36, had unfurled a banner saying, "Business as usual = death".
As the XR men were hauled off they slipped into a melee of angry commuters.
It appears they were kicked and punched while on the floor.
Other concerned people on the platform stepped in to protect the two men.
Eight XR protesters were arrested.
The group includes a grandfather, a doctor and a vicar.
Now, British Transport Police (BTP) have widened their search for evidence against commuters involved in the fracas.
A spokesman said: "As officers continue to investigate the incidents at Stratford and Canning Town, anyone who witnessed what happened, or who has mobile phone footage is asked to get in touch."