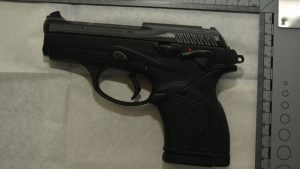 Britain's most dangerous gun has been taken off the streets.
The Beretta 900S has been used in 19 shootings in England and Scotland over the last seven years.
The shootings include five attempted murders and eight attacks at victims' homes.
Four people were injured as these "warning shots" were fired, but the targets involved refused to co-operate with police.
The 9mm pistol – called Link Series 4 – is the most prolific weapon traced by the police.
It's not known how the handgun came to Britain, but it probably arrived in a parcel posted from abroad.
The National Ballistics Intelligence Service (NABIS) were determined to track the gun.
They were to able to match the unique markings left on cartridge cases from various crime scenes and link the shootings to one gun, the "Link Series 4".
The Beretta was seized finally by Merseyside Police after armed officers raided a home in Kirkby, Liverpool.