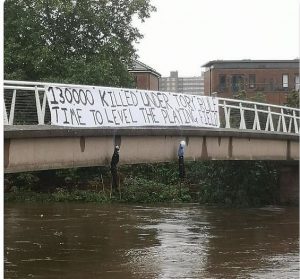 A banner calling for Conservatives to be hanged is being investigated by the police.
The sign was strung along a bridge in Salford, near the Tory party's conference.
It read: "130,000 killed under Tory rule. Time to level the playing field."
The message was spotted by Conservative councillor Kerry Boyd.
She tweeted a picture, adding:
"Never have I felt more apprehensive than seeing this in my morning run pre-Conference. Does this classify as death/terrorist threat? Utterly vile."
Andy Burnham, the Labour Mayor of Greater Manchester, replied:
"It is completely unacceptable and is being removed."
And, Health Secretary Matt Hancock said the banner as "totally outrageous".
He added: "What is not acceptable is threats of physical violence against public figures and people in public debate. Frankly we see far more of that coming from the other side."
The banner has now been removed.
A Greater Manchester Police spokesman said:
"Police are investigating after a banner was displayed on a bridge over the River Irwell during the Conservative Party Conference."