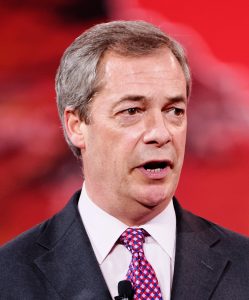 Nigel Farage's comments at a Brexit rally are to be investigated by the police.
The Brexit party leader was talking to about 500 people in Newport, Wales last week.
He said that he would "take the knife to the pen pushers in Whitehall" once Brexit was sorted.
Social media said the comments incited violence.
Also, it marked the end of a week consumed by inflammatory language used by politicians.
During his speech Mr Farage criticised the "wall of propaganda" that surrounds the dangers of a No Deal Brexit.
He said people should pay more attention to those who say Brexit could end well.
He added: "I suggest we listen to them and not the overpaid pen pushers in Whitehall who are not doing a neutral job, and once Brexit's done, we will take the knife to them."
Alliance Party MEP Naomi Long asked if police would be investigating "this clear case of incitement to violence against staff in the civil service."
Gwent Police replied saying: "We have been made aware of comments made in Newport and we are looking into these allegations."