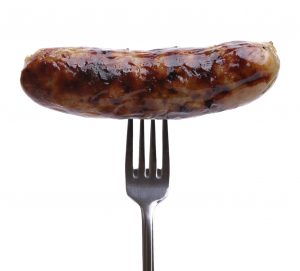 The British banger is under threat because of a shortage of pork in China.
Sausage maker Heck says Chinese firms have been buying huge quantities.
Pig farming in the Far East was devastated by a swine flu, killing millions of animals.
The epidemic saw a spike in pork prices in the UK, leaving British companies struggling to buy enough meat to satisfy the nation.
Heck, based in Yorkshire, said the price paid for pork has risen by 45 per cent in a month, taking it up from £1.85 a kilo to £2.70.
Now, Heck boss Andrew Keeble has asked the Government to help guarantee the availability of British pork.
And, a "Save Our Sausage" campaign has been launched.
Mr Keeble warned the high market prices could soon filter through to UK shoppers within the next few weeks.