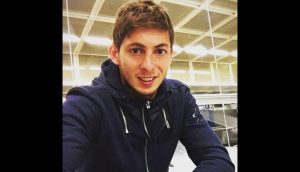 A man and woman have been jailed for illegally accessing footage of a Premier League footballer's post-mortem examination.
The pictures of Emiliano Sala's body in a mortuary were later shared on social media.
The Argentine striker had died in a plane crash in the English Channel while on his way to new club Cardiff City.
Sherry Bray and Christopher Ashford were called "wicked and evil" by Sala's sister.
She said she'd never be able to forget the pictures.
Bray was jailed at Swindon Crown Court for 14 months and Ashford received five months.
Judge Peter Crabtree told them:
"You were both driven by morbid curiosity.
"You have both abused your positions in quite an appalling way."
The post-mortem examination took place at Bournemouth Borough Mortuary.
Bray, the director of Camera Security Services Limited in Chippenham, and her employee Ashford accessed footage of the procedure.
Bray sent a message to Ashford, 62, which said:
"There's a nice one on the table for you to watch when you're next in."
Later, Bray, 49, took a picture of it on her mobile phone and sent it to her daughter on Facebook Messenger.
It was then circulated on social media.
Forensic pathologist Dr Basil Purdue told the court he was not aware security cameras in the mortuary were able to film post-mortem examinations.
Had he known he would "not allow that to take place", adding that it was a "flagrant breach of medical confidentiality".