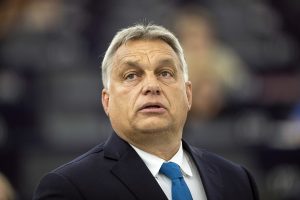 Viktor Orban
The EU fears Boris Johnson is conspiring to ask Hungary to veto a Brexit delay.
The contrived move would radically raise the chances of the UK crashing out with no deal.
It's said EU officials would probably nod-through Britain's request for an extension to the October 31st deadline.
All the union's 27 member states would have to agree.
But Brussels is concerned that Hungary's Prime Minister Viktor Orban might break rank and reject the extension.
Hungary has clashed with the EU recently over migration and measures to restrict democracy.
The EU is worried that Mr Johnson and Mr Orban will become allies and collude to stop the extension application.
Hungarian Foreign Minister Peter Szijjarto said:
"If there is such a request, we'll make our own decision.
"A few large western European member states really want to put an end to this and want it decided one way or another, so probably it won't be our decision that will be key on this issue."